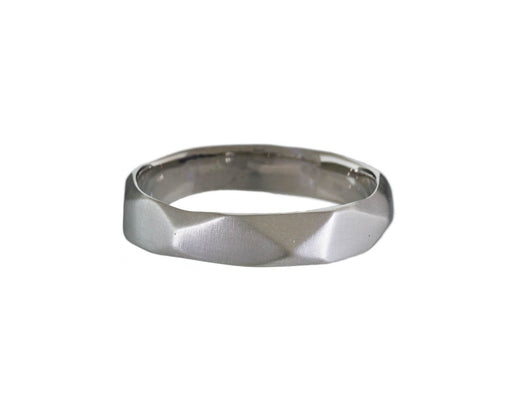 Men's Hard Facet Band
ove-f157w
Modern and distinctive, this Rebecca Overman band has just enough of an edgy appearance to set it apart from the traditional gold band. The surface of the matte 14K white gold ring is angular with asymmetrical facets. Symbolize a wedding, relationship or commitment in a style-defining way.
width : 5mm : 14K white gold
available size : 9.5
please 
contact us 
for more sizing options : can also be ordered for a woman
CALIFORNIA - Influenced by natural forms and subtle movements, Rebecca Overmann creates jewelry that expresses clarity, simplicity and elegance. She studied jewelry design at Savannah College of Art & Design and launched her collection in 2000. She uses a mix of metals and sets each piece with raw, rose cut and fancy diamonds in subtle, natural hues. Her jewelry is hand-made in her San Francisco studio and all materials are sourced from reliable, responsible suppliers, incorporating recycled metals and conflict-free diamonds.
You May Also Like:
Your Recently Viewed Items:
Ask a question!
We respond to these inquiries right away, but if you want to talk to a real person who knows the jewelry as if it is their own, call us!
xo
The TWISTonline.com team
Send a hint
Men's Hard Facet Band