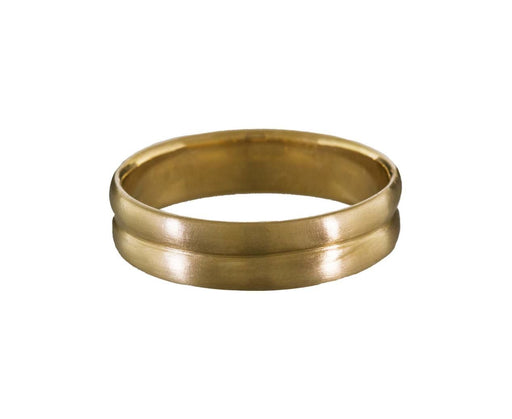 Men's Double Ridge Ring
ove-f15y
Modern and sculptural, this Rebecca Overmann men's band makes a little more of a statement than a more straightforward ring, making perfect for the guy with a sense of individual style. The 14K yellow gold band has two double ridges and curves in a fluid motion around the finger. Let him express his commitment with this around his finger.

width : 4mm : 14K yellow gold
available size : 10
please contact us for more sizing options : can also be ordered for a woman
CALIFORNIA - Influenced by natural forms and subtle movements, Rebecca Overmann creates jewelry that expresses clarity, simplicity and elegance. She studied jewelry design at Savannah College of Art & Design and launched her collection in 2000. She uses a mix of metals and sets each piece with raw, rose cut and fancy diamonds in subtle, natural hues. Her jewelry is hand-made in her San Francisco studio and all materials are sourced from reliable, responsible suppliers, incorporating recycled metals and conflict-free diamonds.
You May Also Like:
Your Recently Viewed Items:
Ask a question!
We respond to these inquiries right away, but if you want to talk to a real person who knows the jewelry as if it is their own, call us!
xo
The TWISTonline.com team
Send a hint
Men's Double Ridge Ring