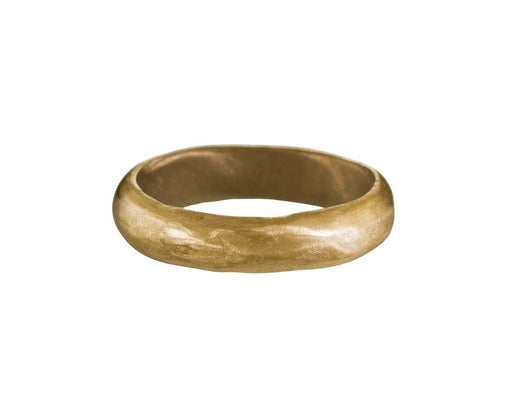 Men's Classic Band
isa-rycm
Classic in the traditional sense, but ultra-earthy and modern in its design, this Isabel Borland men's band says, 'Yep. I'm taken.' with style. The hand-sculpted band of 14K yellow gold is a half-round rendition of the ubiquitous wedding band, however its surface is anything but. The subtly irregular finish gives it a cool, understated vibe.
14K yellow gold band : 5mm
available size : 9.5
please 
contact us
 for sizing options
Austin, TX - Isabel Borland explores organic, balanced, essential forms, and the beauty and flexibility of precious metals and natural gemstones. She takes a minimalist approach and her design process is largely reductive, stripping away any details that feel superfluous or redundant. The line is all hand-carved (the bracelets from a single block of wax) and hand-finished, and she embraces the delicate marks, textures and irregularities that make each piece unique - designed to stand alone or to be layered and collected over time, mixing metals, patinas and gems. Isabel does not sign her jewelry, but leaves traces of the sprues as a nod to the process. This is her signature "X", and she hopes each piece becomes the signature of the person who will wear and enjoy it for many years.
You May Also Like:
Your Recently Viewed Items:
Ask a question!
We respond to these inquiries right away, but if you want to talk to a real person who knows the jewelry as if it is their own, call us!
xo
The TWISTonline.com team
Send a hint
Men's Classic Band