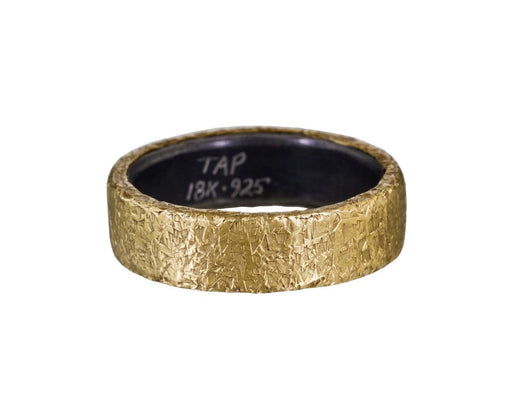 Gold and Silver Rustic Hammered Men's Band
tap-gr59y
Beautifully hand-wrought and meticulously finished with his signature of TAP, this Todd Pownell band is everything a men's band should be. Rugged, earthy, understated, modern and edgy, the oxidized sterling silver interior is covered by a layer of 18K yellow gold with a subtly textured, rustic hammered surface. Strong enough to convey the 'I'm taken' sentiment, he'll love wearing this ring on his finger.
width : 7mm : 18K gold and sterling silver interior
available size : 9.5
please 
contact us
 for sizing options
OHIO - Todd Pownell has created his TAP ring collection inspired by the journey from emotion to experience and back. Each exquisitely hand-crafted ring is a study in light, form, contrast and materials. This fascination with the intrinsic properties of gems, metals and construction have led him to create a stunning line of rings which evoke a raw, rugged - yet extremely refined - 'vehicle for expressive desires and nomadic thoughts'.
You May Also Like:
Your Recently Viewed Items:
Ask a question!
We respond to these inquiries right away, but if you want to talk to a real person who knows the jewelry as if it is their own, call us!
xo
The TWISTonline.com team
Send a hint
Gold and Silver Rustic Hammered Men's Band